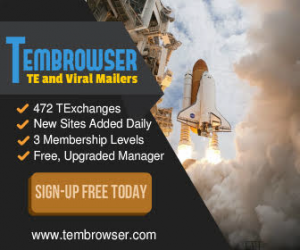 Surf up to 75% faster with TEMBrowser
If you surf traffic exchanges you know it can be long and boring, with TEMBrowser you can make it fast and fun. TEMBrowser is a traffic exchange and viral mailer browser, with it you can surf your TE and safelist up to 75% faster then with a normal browser.
When you join TEMBrowser, download the program. Once you have it up go to the templates page and buy some site templates. Don't worry the first few sites are free to buy, additional can be bought for 50 points which can be earned by referring other member, winning them in the weekly top surfer prize pool, or be bought with money.
Once you've bought your templates reload the my sites tab in the control panel, the sites you bought in TEMBrowser will now show up and you can add them to a group. With the group feature you can choose to launch one or as many of the sites as you'd like. Once you've launched the sites you log in and surf, the browser will automatically switch between the tabs with each click, cutting your surfing time down dramatically.
To surf your viral mailers open the Gmail helper in the control panel settings. With the Gmail helper press "start to load email ads" and approve TEMBrowser to access your Gmail account. Once you do this TEMBrowser will start to open all the emails in your inbox. It will click the credit links for you and you just have to click the icons to continue. Please remember that TEMBrowser will only open emails from sites you've bought the template for, so if you have sites you don't have the template for or sites not on TEMBrowser yet check those before starting GMail helper as it will delete the emails form those sites.
TEMBrowser is a big help to me with my daily surfing, I hope it can help you too.